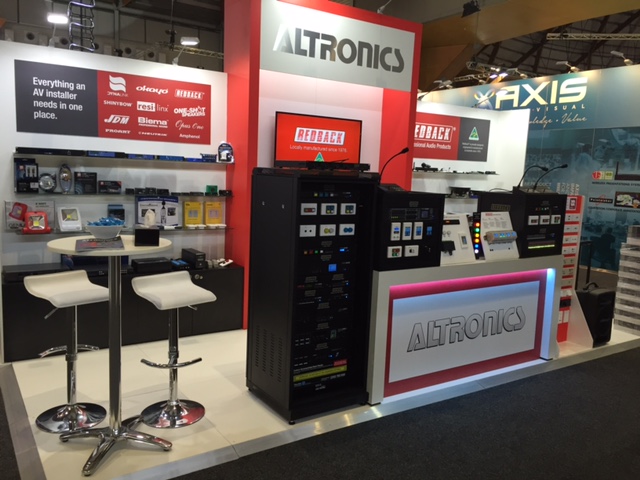 Integrate 2018 is coming! This August we will be showcasing new products at the Integrate Audio Visual exhibition at the ICC in Darling Harbour, Sydney. We look forward to catching up with many of our valued customers at the show to chat about new product developments, ideas and trends in public address.
New Products On Show @ Integrate 2018
A 4427 6 Input PA Mixer

A continued evolution of our popular mixer line this new model offers even greater versatility for public address installations. Six universal inputs are fitted which can be configured for either balanced mic or aux line level signals, PLUS two dedicated aux inputs. Six levels of automatic priority are in-built ensuring paging, BGM and evac programming is output as needed. Each input is provided with tamper proof recessed tone controls and VOX sensitivity adjustment.
A significant addition is an in-built MP3 player enabling alert & evacuation tones, plus chime or message playback, making it an excellent PA mixer option for retail environments (supermarkets, hardware stores etc.).
A 5135 4 Input Microphone Hub & A 5130 Microphone Cat5/6 Wallplate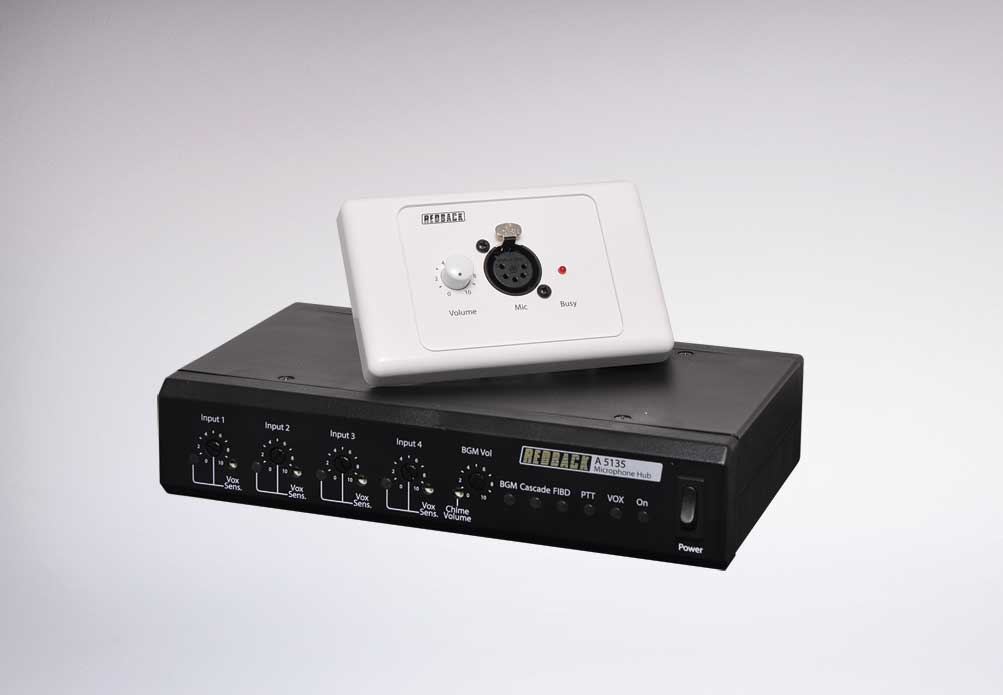 This new model has been designed with small supermarkets in mind. We've designed the hub to cater for industry standard supermarket microphones which connect to a local wallplate (A 5130) over Cat5/6 cable, simplifying the install cabling process. Up to four microphones can be connected to one hub with each input configurable to either VOX or PTT muting. Three levels of priority are provided: FIBD, 1 over 2-4, 2 over 3-4, 3 over 4 or mixed options.
A 4930 Mic/Line Hub & A 4931 Local Input Cat5/6 Wallplate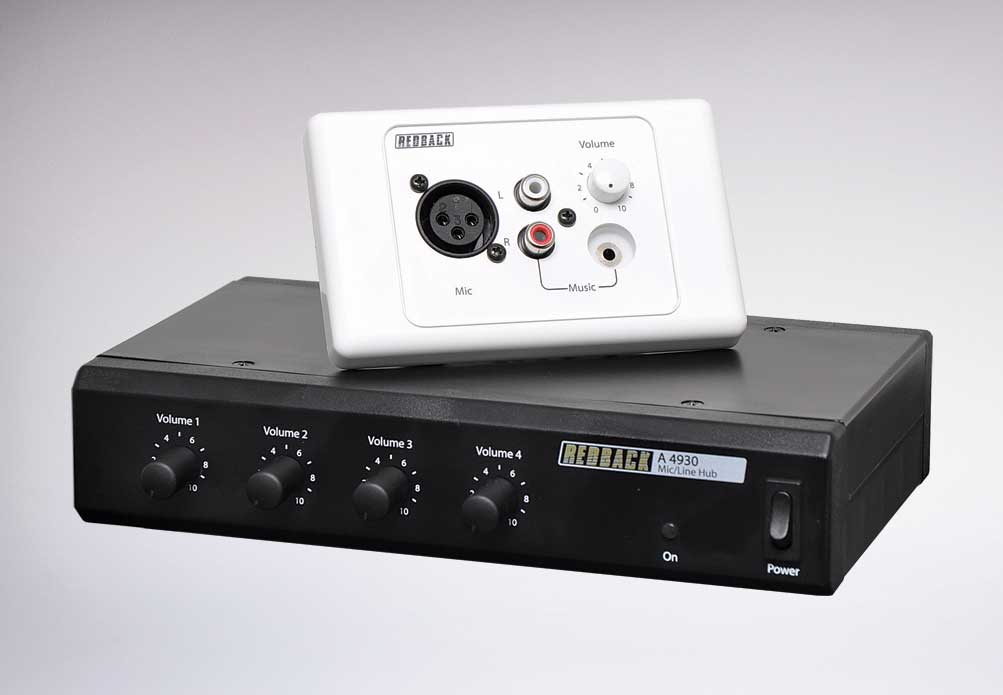 This new model evolved from our very popular A 4920 balanced line driver unit. Designed to connect to four wallplates, this new model, allows easy connection of balanced mic or line aux signals over long distances using economical Cat5/6 cabling. From the A 4930 wallplate signals are routed to dedicated outputs for connection to individual zone amplifiers. Plus, a mixed output can feed a common amplifier.
The wallplate itself is fitted with a balanced 3 pin XLR, dual RCA and 3.5mm jack inputs making it able to be connected to virtually any analogue audio source.

A 4260/62 Class-H Mixer Amplifiers
Our latest Class-H amplifiers are a fantastic choice for powering general audio systems in restaurants, function centres, office complexes etc. Each model features balanced mic input, two auxilliaries and an MP3/FM/Bluetooth audio module providing plenty of options for background music sources. All housed in a compact 1RU case. Available in 120W and 240W configurations.
And much more!
More than anything at Integrate we enjoy talking to installers and AV integrators about new trends, product features and ideas to help grow the industry. Drop on by the stand to chat with our sales team. During Integrate week we will have staff from all states on board to help liase with inter-state customers too. We look forward to seeing you there.