A 4488

• Four Zone Paging Microphone
Overview
An elegant desktop four zone paging mic with pre-announcement chime and balanced line level output. It allows the operator to manually select any zone or any combination of zones. Also includes an all call & cancel button. Connections for remote power (24V dc) and the balanced audio output are via an 8 pin RJ45 socket which is connected to any of the compatible Redback audio products listed below. Output volume is adjustable and the unit has an inbuilt pre-announcement chime. The high level balanced output allows transmission over 300m without interference. Suits for line level or 100V line zone switching. Operates as a stand alone paging solution or in conjunction with the compatible Redback products listed below. Requires 24V dc plugpack.
Compatible Redback Products:
A 4469/89/89A Four Zone Relay Audio Switcher Unit.
A 4580 Paging System Controller.
A 4270 Public Address (PA) Mixer Amplifier 125W 100V 4 Zone.
A 4280 Public Address (PA) Mixer Amplifier 250W 100V 4 Zone.
Key Features:
Heavy duty metal desktop case
Easy installation using standard Cat5e UTP cable.
Power via standard 24V DC.
Pre-announcement chime.
Can be installed up to 300m from amplifier.
Use stand-alone or with compatible Redback products.
Use with Four Zone Relay Audio Switcher Units
There are multiple configurations for pairing the A 4488 with the A 4469/89A four zone audio switcher units. Two examples are detailed below. The first details connection between A 4488 and multiple individual zone amplifiers via either line or mic level (mic level shown in diagram)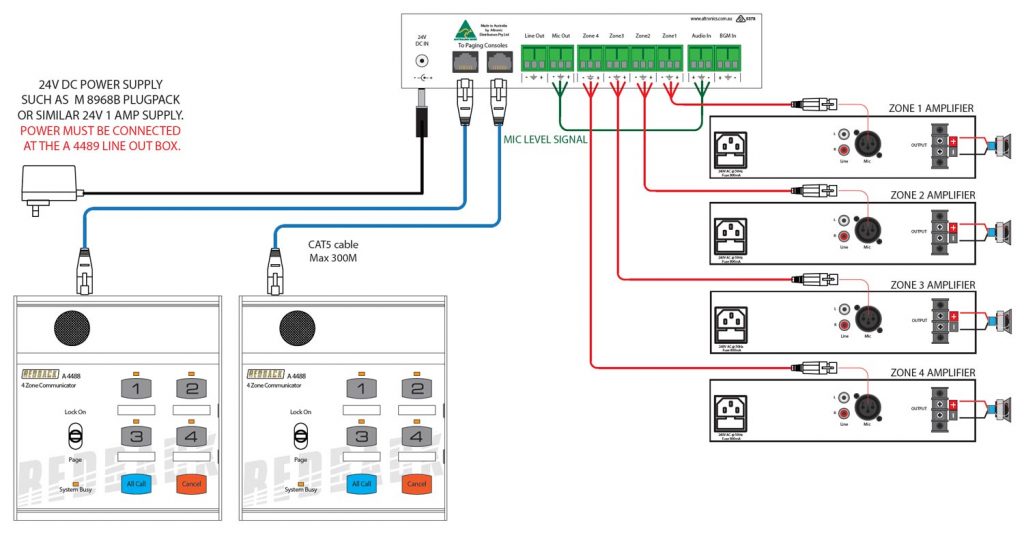 The second configuration allows for a single zone amplifier powering all zones at once. In this configuration the amplifier output is fed into the A 4469/89A and speaker circuits are connected directly to the zone outputs. The A 4488 can then be used to page each zone as desired.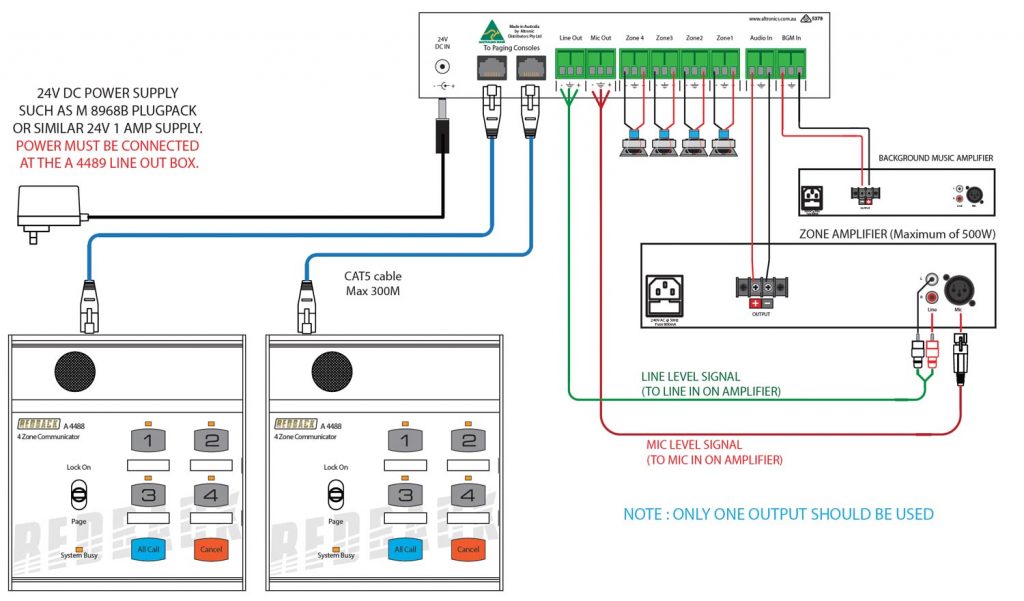 A maximum of two paging consoles can be connected to the audio switchers at the same time. These work in a "first in, best dressed" arrangement. Each unit must be assigned an ID number through DIP switch settings on the rear of the unit. Connection between the A 4488 and audio switcher is via a Cat5e cable which carries power and the balanced audio output from the microphone.
---

Developed, designed & assembled in Australia.
Since 1976 Redback PA products have been manufactured in Perth, Western Australia by Altronics. With over 40 years experience in the commercial audio industry, we offer consultants, installers and end users reliable products of high build quality with local product support.

---

Backed by an industry leading 10 Year Manufacturer Warranty.
Our Redback products have a long tried and tested history of bulletproof reliability. Altronics offers a 10 Year Warranty on all Australian Made Redback products. Our local in-house service department has all the know how to answer technical queries and provide timely service.

Specifications
Electrical
Mic frequency response: 100Hz – 10kHz
Mic polar pattern: Cardioid (unidirectional)
Power supply: 24V DC
Mechanical
Mic gooseneck: ≈325mm
Base unit (mm): 137L x 113W x 59H