A 4480A

• 8 Input to 8 Output Audio Matrix Switcher
Our flagship multi zone audio source controller. Designed with clubs, pubs, gyms and function centres in mind, this matrix system allows 8 sources to be switched to 8 zones with custom pre-sets available. It is a versatile and cost effective central audio source controller with remote zone management and paging control in-built.
Overview
Designed to meet the demands of todays complex audio installations. This very versatile, cost effective, PA/BGM control system is suitable for clubs, pubs, gyms etc. It is ideally suited as a central controller for all audio inputs and outputs in a multizone installation. The design is highly flexible and easily set up by the installer. No special training or programs are required.
Key Features:
8 Stereo RCA line inputs (internally mono mixed)

Adjustable line input sensitivity 0.3/0.7V

Balanced mic or RCA line operation on inputs 1 and 2.

Individual bass, treble and volume controls for all line inputs.

8 Balanced 3 pin XLR line outputs

Individual volume controls for all 8 outputs

Colour TFT screen for easy setup and review of settings.

Up to 8 paging consoles per system.

All call priority line input – ideal for RSL clubs for Ode playback or telephone paging.

Program isolate function for each zone.

Alert/evacuation/pre chime tone generator included (alert/evac tones comply to AS1670.4)­

Emergency balanced input (phantom power & sensitivity selectable)

Programmable labelling of sources and zones via USB keyboard

Four programmable presets

On-screen help menu system

Tampering lockout feature

24V DC operation

19" rack mount (2 unit)
Multi Zone Bar & Restaurant installation using the A 4480A 8×8 Matrix and four zone PA amplifier.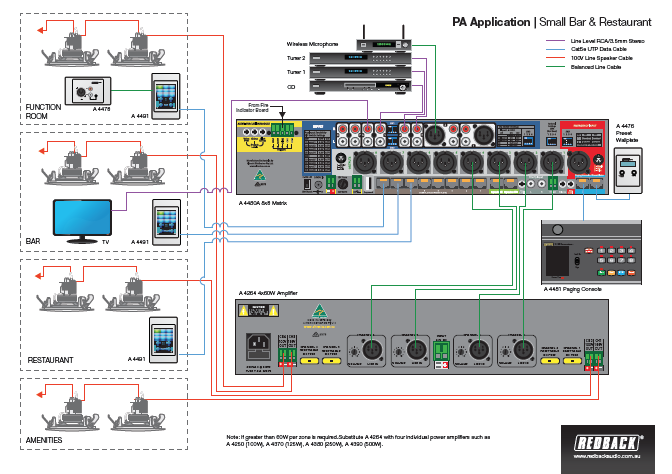 A system offering multiple source configurations and 60W per zone. Caters for paging and local zone source control.
Preset Operation
Six user presets are provided for recalling regularly used configurations. Presets one to four are user programmable and can be recalled at any time. Preset five is "last setting" prior to a preset being loaded. This is an easy way to revert to a previous system setting. Preset six is a backup of the initial system configuration. Presets may be selected from the front panel or remotely by the A 4476 preset selection wallplate.
Input and Output Operation
The system can be configured with up to 8 zone paging consoles, 8 local zone inputs, 1 emergency paging input, 1 alert/evac input, and 8 auxiliary audio source inputs. Each auxiliary input has selectable sensitivity – 0.3 to 0.7V.
Auxiliary inputs can be switched to any zone or combination of zones. Each auxiliary input has a volume, treble and bass control, plus a signal presence indicator. A programmable display indicates which input is selected to which outputs.
For remote selection of auxiliary inputs the A 4475 wallplate may be connected via Cat 5 cable to each zone (max 1 per zone). This wallplate enables selection of any auxiliary source, plus local level adjustment.
A local input wallplate (A 4478) can be placed in each zone for connection to a local mic or line audio source. This wallplate connects to the A 4476 program selection wallplate.
Tamper proof volume controls and signal presence indicators are provided for emergency paging and alert/evac signals. Closing contacts activate alert/evac signal.
Volume controls are provided for each output. All 8 outputs consist of 3 pin balanced line level XLRs.
Program Isolate
This function allows 'blocking' of selected RCA input audio sources to selected zones. This does not affect paging or tones.
Priority Muting Operation
A priority muting system ensures appropriate signals are routed to zones depending on the condition of the system. For example in emergency paging mode, all inputs, including alert/evac signals are muted for live emergency announcements through the paging microphone. In alert/evac mode all inputs are muted so that tones and recorded messages may be played in all zones.
When a local input is connected any auxiliary source being played in that zone will be muted.
In zone paging mode auxiliary signals will be muted for transmission to the selected zone. To prevent unwanted interruptions during functions or events, zone paging may be prohibited from the front panel via the PA on/off function.
---

Developed, designed & assembled in Australia.
Since 1976 Redback PA products have been manufactured in Perth, Western Australia by Altronics. With over 40 years experience in the commercial audio industry, we offer consultants, installers and end users reliable products of high build quality with local product support.

---

Backed by an industry leading 10 Year Manufacturer Warranty.
Our Redback products have a long tried and tested history of bulletproof reliability. Altronics offers a 10 Year Warranty on all Australian Made Redback products. Our local in-house service department has all the know how to answer technical queries and provide timely service.

Specifications
Electrical
Wallplate & paging console inputs: RJ45 8P8C
Data transmission: Cat5e cabling max 300m
Keyboard input: USB type A socket (front & rear)
Power (24V DC): Euroblock terminal or 2.1mm DC socket
Protection (DC): 4A M205
Controls
Outputs: Individual level controls
Inputs: Individual bass, treble and level controls
Zone selection: Push buttons
Rear panel level controls: voiceover, chime, alert/evac, priority input, priority input VOX, emergency input VOX.
Rear panel DIP switches: aux input sensitivity, phantom power, mic/line, emergency input, optional settings.
Mechanical
Dimensions: 482W x 152D x 88H mm
Weight: 4kg