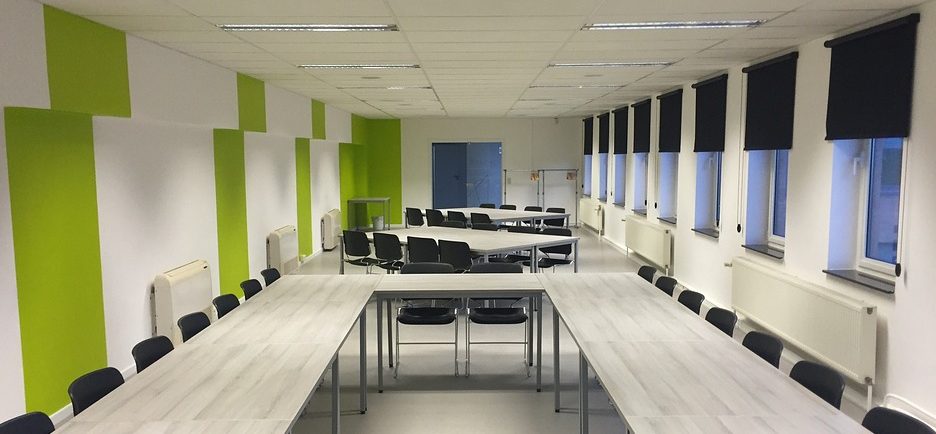 What is a hearing induction loop? 
An induction loop or otherwise known as a "hearing loop" or "t-loop" assists the hearing impaired by providing sound directly to a hearing aid via an induced magnetic field. This is done by looping copper around the room. Induction loops can be the size of a small meeting room or as large as an entertainment venue. The effect of the loop is to provide sound to the hearing aid device as if you were far closer to the source of the audio. This makes it particularly suited to relaying speech from on stage presenters or in smaller settings such as court rooms, conference rooms etc.
How do hearing loops work?
The loop is constructed from copper tape or wire, which is looped around the area where the listening audience is located. A specialist amplifier generates a current which feeds the signal into the copper. This produces a small magnetic field which is picked up by the hearing aid internal telecoil. The hearing aid or implant then processes the signal and tailors the output for the individual. Importantly, this method helps to eliminate background noise because the signal is coming directly from the microphone connected to the hearing loop amplifier.
What hearing devices are compatible with hearing loops?
Hearing loops are designed to operate with cochlear implants and "T" switch equipped hearing aids. This feature is available on most hearing aids available on the market. They can also be used with stand-alone hearing loop receivers which can use standard headphones.
Where can hearing loops be installed?
Any buildings that use an amplification system and/or microphone such as meeting halls, theatres, clubs, churches and function centres. A hearing loop system can be installed in conjunction with an existing or new audio PA system or as a standalone system for the hearing impaired.
With Australia's ageing population it is no wonder that more and more buildings are now including hearing loops in their design. Their uses are not strictly limited for staged events such as presentations or talks either. Buildings are now utilising hearing loops to send important evacuation signals to hearing impaired individuals. Importantly public spaces are now subject to a legislated building code requiring 80% coverage for hearing loops.
The disability discrimination act also outlines that hearing augmentation systems be provided for all buildings where people assemble for civic, theatrical, political or religious purposes. The education sector is also a key part of the legislation ensuring that all schools, early learning centres and universities. Public transport also requires systems to be installed for clear communication to all individuals.